Rotary - Pickup / Installation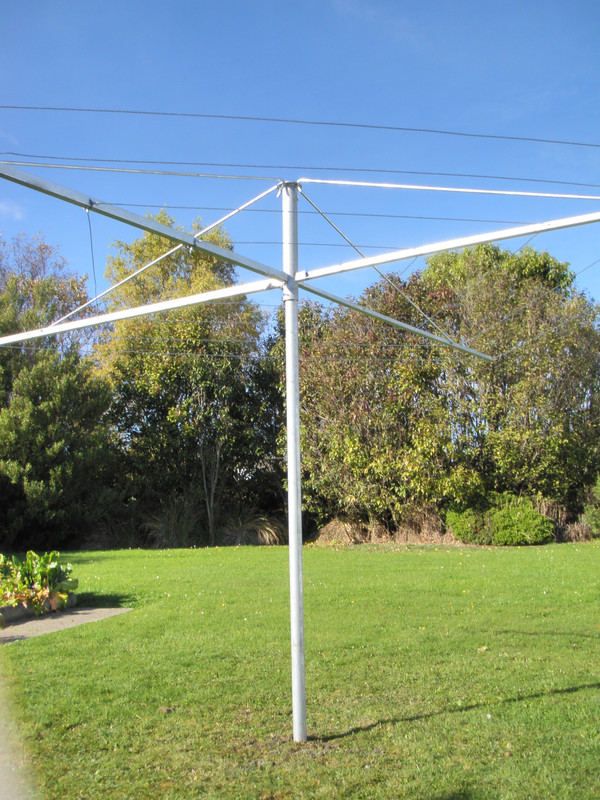 Standard Rotary Clothesline (fixed pole)
F3 - 4 lines 26m (suitable for Double sheets, outside line approx 2.3m)
F4 - 4 lines 30m (suitable for Queen sheets, outside line approx 2.45m)
F5 - 5 lines 40m (suitable for King sheets, outside line approx. 3m)
You remember when gran's knickers were blown off the line by a strong wind, back when clotheslines were built to last? You don't have to worry now, the 'Great New Zealand Rotary Clothesline' is made right here today in Dunedin! At Otago Engineering, our rotary clothesline range is made in different sizes from non-rust galvanised steel and are known to be one of the strongest rotary clotheslines available on the market. They are built to withstand the elements and are particularly suitable for high wind areas.
Features of this clothesline include: Duragalvanised pipe pole, angle arms and rod stays, all hot-dip galvanised and genuine galvanised clothesline wire.
The pickup pricing is for each individual clothesline to be collected from our factory at 395 Kaikorai Valley Road.
Installation pricing is for the Dunedin area - if you live elsewhere please get in touch for an install price.